Set Your Child Up for a Successful Start to School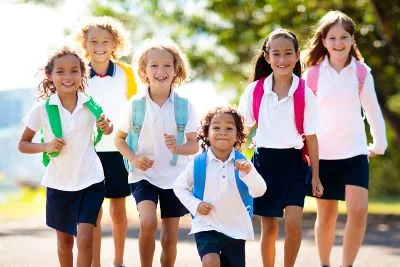 Developed by Mary Sheedy Kurcinka Ed.D. and Lynn Jessen M.A.
Whether your children are starting a new school for the first time or returning to a familiar building, the end of summer and beginning of the school year can be a very stressful transition. Whether it will go smoothly or blow-up may seem to be up for grabs, but the reality is you can increase the odds of a successful transition by following these 10 steps.
Begin with yourself. Do you believe your children will be emotionally and physically safe at their school, and that it is a place where they will be treasured and thrive? If you are feeling anxious think about what information you need to get, or actions to take to alleviate your concerns. To learn it is essential for children to be in a state of calm energy. When you are worried about their well being it is difficult to send a message of safety, but to the best of your ability try to communicate verbally and through your body language that school is a safe and good place. This will calm them so they can focus, attend and excel.
Shift bedtime now. During summer bedtimes often creep later. To start the day with smiles instead of tears be certain your children are getting the sleep they need. On average school age children need 10-11 hours of sleep. Adolescents need 9.25 hours. If you must wake your children for school, they are not getting enough sleep. Shift bedtime earlier in 15-minute increments until they are waking on their own.
Establish a consistent morning wake time that allows your children to prepare for the day without feeling rushed. Once that's set, plan for you to awaken 30-60 minutes before the children so you can begin the day doing something that centers you! Start the day taking care of you!
Create or re-establish your morning routine to eliminate unnecessary transitions and allow time to connect. For example, before your children leave the sleeping area start the day with a cuddle, then toilet, dress, brush hair and teeth. Once all tasks are completed shift directly to the kitchen for breakfast. Prepare the meal together and then sit down to enjoy it. Breakfast can become a time to calm and connect before you separate for the day.
Familiarize your children with the building and people at school. Before school begins visit your children's classroom. Find each child's locker, desk, the bathroom, and cafeteria. If possible, meet the teacher/s. Always use positive words to describe your child. "He's curious, observant, focused and energetic versus nosy, reticent stubborn and wild."
Practice drop-off. Create a visual plan of the steps. Review it together and practice. Will you be walking your children to a bus stop or the school door? Who will meet them? Wil you kiss and hug goodbye, or give a "high five?"
Create a ritual of re-entry at home that calms everyone. For example, arrive home, wash hands, unpack backpack, have a snack if needed, and then outside time, or talk time – whatever helps everyone to re-center and calm.
Together with your children plan when during the day they will do their homework or practice skills. Establishing the times will allow everyone to know what to expect and help you to avoid overscheduling. Do not forget to establish and prepare a site for them to do their work as well.
Check-in. Designate a set time of day to focus on your children and listen to their concerns. For extroverts that will likely be the minute they see you. Introverts need time to process their day and may not be ready to talk until bedtime. Plan accordingly so that your introvert has a chance to talk and still get adequate sleep. Ask questions that help them process their emotions. "What are you excited about?" "Is there anything you are wondering or worried about?"
On the weekend, be intentional about staying within an hour of your morning wake and bedtimes. An erratic schedule is even more detrimental than lack of sleep as it creates jet lag and disrupts the body clock. The result is dysregulation and Monday morning meltdowns. Instead, maintain your morning routine but rather than heading out for school go do something fun!
Lynn and I wish you a GREAT school year!
Display All Posts
Search by Topic:
Popular Posts: