Free Play or Register Me Now? Solving the Summer Dilemma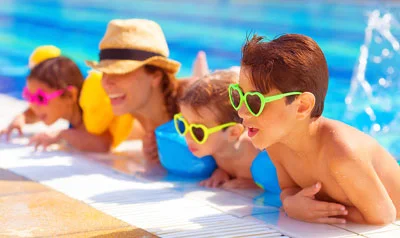 "Any summer plans?" I asked the parents in my group. They slumped into their chairs, emitting groans and shaking their heads. It was Kristin who broke the silence.

"Summer has become the season of 'shoulds,'" she announced. "He should be in swim lessons. He should be playing soccer. Oh, and don't forget T-ball."

Scowling, she continued, "I can see it now, the baby will never get her naps, I'm going to spend every free minute in the car and I cannot even think about the expense." Then she sighed, her voice dropping, "But if I don't sign him up, I worry I'll be letting him down, or he will never play on a high school team. He's only four-years-old, but still." Glancing around the group, she reflected,

"I don't know about the rest of you, but I feel like I am trapped in a no-win situation."

A long moment of silence filled the room. Kristin had "laid it on the table." Suddenly the group erupted as everyone jumped into the conversation, eager to add their frustrations to Kristin's.
I could not help it. My eyes lit up with excitement.

"This is the perfect opportunity for teaching problem-solving skills!"

I declared. If looks could kill, I was dead on the spot. But I continued. "Think about it, some of the most important things you can teach your children are:

• how to creatively solve problems

• establish priorities

• and learn how to bring balance into their lives!"

The groans grew louder. "Really," I said. "Think about it.

If you asked your child what he wanted to do this summer, what would he say?"

"The only thing Gunnar would answer is 'play,'" Ben stated dryly.

"Exactly," I whooped in delight.

"But that doesn't tell us anything!" Ben insisted.

"Ah, but it does. It tells us everything!" I exclaimed.

You see four-year-olds don't have any "shoulds" running through their brains.

They are not worried whether or not they are keeping up with the kids next door, or whether they will ever play high school soccer. They are living in the moment and we can learn wonderful lessons from them. Don't get me wrong. Structured activities can be educational and fun, but there are alternatives.

Imagine if instead of hitting the 'pay now' button on the registration page for yet one more class or team, you did what Lynn does at Paidea. You created 'play boxes.'" Blank stares greeted my suggestion.

I turned to the board and began writing.
Art Box

Contents: ribbon, wrapping paper, construction paper, glue, tape, more tape, tape of all colors, markers, crayons, scissors, tissue paper, a stapler, stickers, string, toothpicks, pipe cleaners, paint, sequins, etc.
Water Toy Box

Contents: sponges for washing trucks, plastic animals, dolls, things that sink and float, turkey baster, strainers, funnels, brushes, etc.

Eyes lit up and suddenly the entire group was brainstorming.
Construction Box

Contents: golf tees, Styrofoam, tools, tool apron, hard hats, measuring tape, pencils, glue, tape, etc.
Dress–up Box

Contents: scarves, hats, purses, bags, capes, belts, vests, large jewelry, ties, etc.
Train Box
Contents: trains, track, blocks, paper for tickets, maps, hats, cardboard, paint, etc.
Music Box
Contents: rhythm instruments, streamers, favorite music, etc.
And for the older kids:
Deconstruction Box

Contents: an old piece of furniture or other items that can be taken apart with a few tools. (Avoid electrical items such as computer monitors or camera flashes which can have capacitors inside that hold an electric charge even when unplugged. Check the internet for more information.)

The list went on as the group offered suggestions:

• a theater box,
• grocery store box,
• Olympics box,
• ball box,
• garden box;

The possibilities were endless.
So, imagine if instead of dreading the idea of feeding the kids in the car and dashing off to a structured practice, you could go outside, pull out the music box and for a solid twenty minutes play with the kids before starting dinner. Or, rather than waking the baby to haul her out to your preschooler's art class, you put her down for a long uninterrupted nap, opened the art box and revisited your artistic self with your preschooler? And if you were really honest, would your four-year-old rather play ball with you in the backyard, or go stand in line at T-ball?
Your drawers, cupboards and attic are full of potential supplies. If something is missing you can hit the local garage sales or thrift shops with your kids – Lynn's favorite thing to do - and if you still need a few materials, check the dollar store.
By using one morning this weekend to sit down as a family to brainstorm "play box" ideas, gather the supplies and find the perfect spot to store them, you'll be ready at a moment's notice for hours of "free play." What will be the result?

Your child will practice skills such as:

• creative problem-solving,
• team work,
• self-motivation,
• persistence and perseverance,
• self- expression,
• and flexible thinking to name just a few.
Now these are the REAL essential life skills!
If that is not enough reason to try it, take a moment to visualize how competent and confident the kids will feel when they show off their creations. And for just a second, imagine "playing" instead of rushing, actually enjoying the deck you built instead of glancing at it as you dash out the door, and looking forward to summer because you know it is going to be FUN!
Let us know what you think.
• Are you "letting your children down" if you choose to play instead of signing up for another structured activity?
• What happens when you "play" with the kids?
• Have you discovered successful strategies to bring balance into your summer days?
Display All Posts
Search by Topic:
Popular Posts: